Impact of Corona at Retail and e-commerce
Almost 1 year ago, our lives changed tremendously! At the Dot Society, we will never forget 18/03: first day of lockdown. First, there was a little bit of panic and insecurity. After one week, we convinced our clients to see the opportunities and keep communicating. In April we realized tremendous growth on all the e-commerce platforms we managed. We saw the digital revolution already years ago and quickly realised that Covid-19 would speed up this process. 
Based on the insights from our clients and the reporting from Retail Sonar, we would like to sum up interesting insights for your 1 year after the start of the new digital revolution. 
General numbers
On average, non-food retailers realized 74,5% more online sales in 2020. Food-retailers saw their online sales increase by +142%. It is worth noting that Belgian consumers, who are generally considered to be less digitally mature, were responsible for the largest increase.
Is this online shift here to stay? Partly, yes. In 2020, customers found their way to retail-webshops like never before. 7 out of 10 customers who shopped online, did this for the very first time. This made 2020 a pivotal year for customer retention and optimizing the (digital) service. Age groups +45years found their way to e-commerce and could experience the convenience of shopping online. This habit will never be reversed. 
Does this mean the end of offline retail? 
No way. At the Dot Society, we believe in a clear omnichannel approach. Even if you don't have your own retail stores, look at your B2B locations and focus on those areas to increase online sales, cause you already have brand awareness there. 
Retailers realize significantly more online sales in areas close to their physical locations. In these regions you have more brand awareness and a higher degree of trust, resulting in more online sales. 
The role of the physical store is evolved: 
Optimizing initiatives like "click & collect" sound like the way forward. They do not only generate more revenue but also improve the convenience of your customers, especially in times where national post services are failing to deliver. Where in the first lockdown the largest growth came from home delivery, it was click & collect that realized the largest growth during the second lockdown. For our food clients, we also saw an enormous importance of convenience: ordering at a delivery platform and bringing it right on your doorstep. The customer is looking for convenience on the one hand and will look for unique experiences on the other hand, once we are back able to.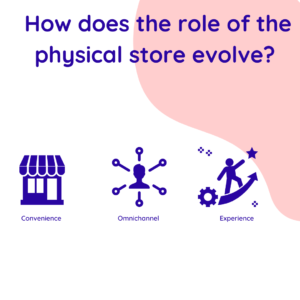 Data and interpreting those numbers are crucial. 
How can you make strategic (location) decisions in a time where it's hard to predict what next week will bring? 2020 turned our lives upside down, brought new dynamics and changed lifelong accepted views. But… it can also be a reset! No one can tell what next year will bring. But everyone can measure how customer behaviour will change. So more than ever, measuring is knowing! Competition and customers are changing every day. Investing in up-to-date data will be key. Making decisions only based on gut feel will no longer be sufficient. Retailers who are able to get a full 360-degree view of their customers will stay one step ahead in 2021. It's time to shift to a customer-centric approach. Remember: those who can understand behaviour, are also able to predict it.
Let's grow digital together! 
This post is also available in: Dutch